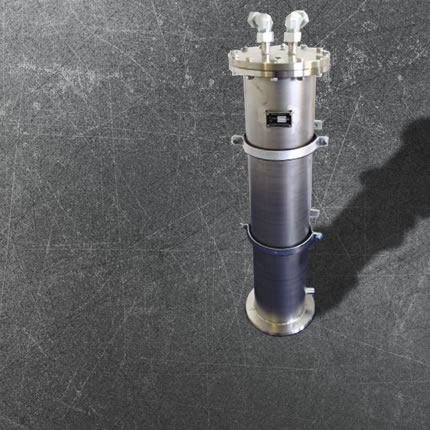 High pressure pipe coil heat exchanger with stainless steel sheathing
Constant temperatures at all times
The Maszyna HD pipe coil heat exchanger with a double pipe spiral for lower volume and weight is highly valued by our customers around the world. Due to the special requirements of our customers, our coil heat exchangers are also manufactured according to special customer requirements. We will also find a special solution for you, tailored to your particular application.
Maszyna heat exchanger features:
A major advantage of the MASZYNA heat exchanger from the WT800 series: A high-pressure coil (PN 315 bar) is cooled or heated with tempering water. This tube coil heat exchanger has the advantage over a shell-and-tube heat exchanger that it does not "grow" over time.
Compact design and low weight
Suitable for high pressures
Corrosion resistant materials
Through the use of very high quality metals, the use in the food and beverage industry is possible
High performance and low energy consumption
Application areas:
Mechanical and plant engineering
Vehicle construction, example: installation of underbody protection (UBS)
Water treatment
Food industry
Beverage industry
etc.
Special construction for customers
We are specialists in the production of coil heat exchangers and can produce a wide variety of diameters, with small wall thicknesses and small winding diameters.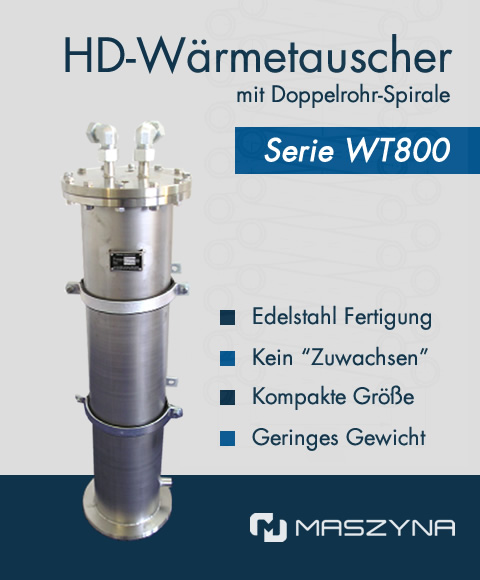 HIGH PRESSURE HEAT EXCHANGER | PRODUCT IMAGES
DATA SHEET
WT800 high pressure heat exchanger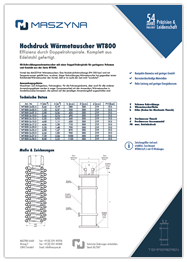 08/2017
High pressure (HD) heat exchanger from Maszyna.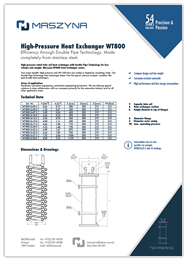 08/2017
High pressure (HP) rated heat exchanger by Maszyna.